Matching Window Style to the Style of Your House
Whether you are building a new home or remodeling an existing one, the window style you choose will help define its look. The right windows just seem to fit the design and complement other building components. Below are examples of 10 popular house styles and suggestions on the type of windows that work well with each design.
Cape Cod
The first cape homes were built in the 1600s and continue to be a popular design for suburban areas. Capes usually have one or one and a half stories with steep roof lines. Most capes also have dormers. This traditional design calls for multi-pane, double-hung windows. An alternative window style is a divided-light upper sash with a single-light sash below.
Colonial
This is a catchall term that includes a number of different design movements, including Georgian and Federal. The designs originated in the early years of the country and show the influence of British architecture at the time. These two- and three-story buildings can be finished in brick or clapboard siding. It is a symmetrical design with a center entrance flanked by windows with shutters. Multi-pane, double-hung windows suit this design.
Tudor
This is another design inspired by the British. These houses usually have brick or stone on the ground floor with stucco on the upper floor. Exposed timber is also common. Many Tudors feature rounded entry doors that complement the tall, narrow windows. Multi-pane casements work well with this design.
Victorian
As with Colonial, the term "Victorian" usually encompasses a number of designs that originated around the same period. These two- and three-story buildings incorporate various ornamental components that add texture and interest to the facade. Many Victorians feature rounded turrets or towers. Bay or bow windows, as well as large double-hung windows with single lights for both the upper and lower sashes are common. Windows often have rounded tops, and Palladian-style windows are also common. Palladian windows have three sections where the middle section has a rounded top.
Craftsman
Also known as a bungalow, this style rejected the ornamentation of Victorian designs. Gustav Stickley, a designer who popularized the design, called it a house reduced to its simplest form. The design features low-pitched roofs with deep overhangs. Many include wide porches. Covered entries and porches are often supported by tapering posts set on stone pedestals. Double-hung windows and picture windows work well, but many Craftsman houses feature a combination of window styles.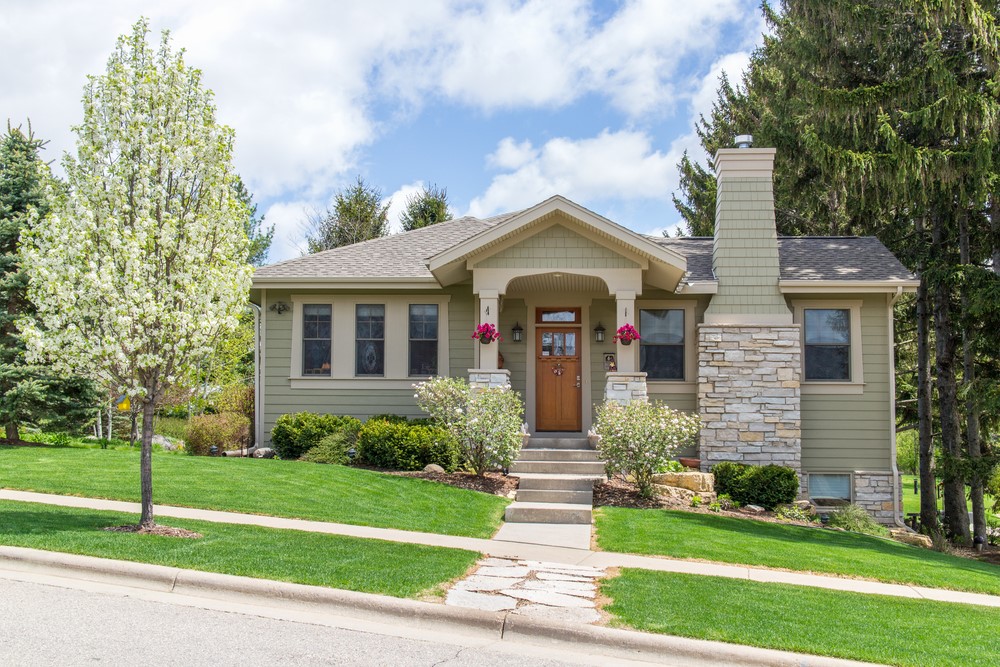 Spanish or Mediterranean
First introduced in the Southwest and parts of California, this design spread throughout the country. This style often has red tile roofs and stucco exteriors. Both casement and double-hung windows work well in this design, especially windows with rounded or arch tops, which can add interest to the facade.
Ranch
True ranch houses are contained on a single floor, although people often raise the roof on part of the house to increase living space. The simple facades often incorporate large picture, or bay, or bow windows flanked by casements or double-hung windows. Horizontal slides are another popular choice for ranch homes.
Contemporary
These designs often lack any exterior ornamentation except for the texture provided by the building materials. They usually have flat or low-sloping roofs. Designers often strive to include as much natural light as possible and glass often takes up large portions of the facade. Floor-to-ceiling fixed windows are not unusual. Awning, casement and horizontal sliders are also common.
Prairie
This design movement was started by Frank Lloyd Wright as an answer to designs that relied on excessive ornamentation. The low-sloping roofs end in deep overhangs. Interior spaces are usually open rather than boxed in, and rely heavily on natural light. Window choices include a row of casements or large fixed glass units topped with a row of awing windows.
Split-Level
Identified by its attached garage and simple design elements, split-level houses gained in popularity after World War II. The main level, which usually corresponds to the main living area, often contains a picture or bay window, but most types of windows work well with split-level houses, including casement, horizontal sliders and double-hung windows.
It is important to remember that the lines that separate one style from another have blurred over the years. Architects and builders routinely take elements from different designs and combine to form new creations, but this list is a good starting point for selecting new windows for your home.
Fran Donegan writes on home renovation topics for The Home Depot. Fran is a longtime DIY writer and the author of the book Paint Your Home. He knows choosing the right window for your home is a critical factor in curb appeal. For information about services for window instillation visit the Home Depot website.
As always for all of your real estate needs I'm always available to help you with updates and remodels in preparation for sale! Call me today! 303-898-9000!